Product Lust
As mentioned in both entries below, today I'm going to Akihabara, Tokyo's electronics district. This is the place that hardware geeks go when they die, at least if they'd been good hardware geeks. (My guess is that bad ones go to France and have their souls sold to Groupe Bull. Or maybe get reborn Amish.)
I'm going with a purpose. Or at least, I'm telling myself that, because I've just been paid my entire stipend for my time here--quite a lot of money for me--and if I don't keep myself to a purpose, I'm going to break my bank in the first weekend. And given that this weekend Sony launched its new products, and that my officemate is deeply determined to encourage me to buy stuff, it's quite a risk.
So, here's the goal. At the moment, I'm trying to read a Japanese novel, but doing it with a conventional dictionary is slow going. What I'd like to do is read an e-book, but incorporate some kind of automatic lookup so that if there's a word I don't know, I'll be able to search for it in just a few clicks. Being able to read it on the subway--i.e. not on my notebook--would be a plus.
The inner consultant--the guy who wants to use what he's already got to get the biggest bang for his buck--wants to get someone to chip his Dell Axim PDA with the Japanese version of Pocket PC 2003, and then buy a dictionary program for MS Reader. But there are such other cool options.
For instance, Sony has just released the Vaio U, the world's smallest Windows XP machine. It's not a Pocket PC, it's a 'real' computer, and the specs are pretty impressive: 1GHz processor, 512 MB RAM, etc. Plus a touch screen, which is massively useful for Japanese-to-English work.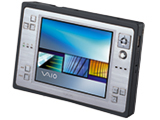 I saw one in Ginza on Friday, and it was mouth-wateringly good. Besides coming with everything you need to hook it up as a desktop--docking station, power supply, etc--the screen resolution is good, the handwriting recognition solid (for a Microsoft machine), and most importantly, it is a real PC. I suppose you could install an English version of Windows, or even Linux if you could get the drivers to work.
The downside is simply price: even though for the features $1800 is cheap, I'm just not ready to spend that at the moment. Especially since my inner consultant reminds me that it doesn't come with the dictionary I need.
But Sony has released another option, the Librie. This e-book reader uses Sony's new E-ink screen technology, which is bloody gorgeous. I won't bother to explain it here--and unless you can read Japanese, the description on the site probably won't help you--but suffice it to say that it looks much closer to paper than anything I've seen.
Additionally, it has a number of dictionaries, expandable through a memory stick, which are accessible within the book while you're reading. This is incredibly useful for reading novels.
The downside? First of all, it's pretty slow--it would benefit from a touchscreen, which is what I expect the next model will have. Secondly, Sony uses a proprietary e-book format. This is simply a pain in the ass: first, I'm not sure if I can write files to it, a feature that would be extremely useful. Secondly, proprietary formats have a tendency to die swift deaths, which means that I may be extremely limited in my choice of readable books, and might end up with a lemon fairly soon. But at $400, it's tempting.
As it is, I'll probably jury-rig something myself, either with my own PDA or a Japanese one. But these options, particularly the VAIO U, are oh, so tempting.